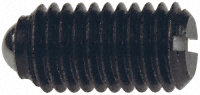 Spring plungers are hollow grub screws with a captive spring loaded hardened ball protruding from one end.
They are commonly used in machine tool indexing applications where a pre-defined positional stop is required.
We stock these black phosphated finish high tensile steel spring plungers with slot drive, from M3 to M10.
Other larger sizes are also available on request.
All prices include 20% VAT Click here for details
Metric Spring Plungers
Slot drive, black phosphated finish

Thread
O/A Length
Screw Length
Ball Dia
Preload
Max load
MF Ref
Pack Qty
Pack Price
You can enter/change the number of items on the order form
mm
mm
mm
N
N
M3
7.5
7
1.5
2
3
MF-SPM3
2
£3.84
10
£17.28
M4
9.8
9
2.5
6
12
MF-SPM4
2
£4.20
10
£18.90
M5
12.9
12
3
7
13
MF-SPM5
2
£4.50
10
£20.25
M6
15
14
3.5
9
16
MF-SPM6
2
£4.80
10
£21.60
M8
17.5
16
5
20
35
MF-SPM8
2
£5.34
10
£24.03
M10
21
19
6
25
45
MF-SPM10
2
£6.24
10
£28.08
| | |
| --- | --- |
| Thread | Threads are all metric and coarse pitch. Click here for more thread data |
| O/A Length | The length of the screw plus the ball with no compression |
| Screw Length | The length of the screw section only |
| Preload | The force required to start to depress the ball (in Newtons). |
| Max load | The force required to fully press the ball into the screw body. |
All force figures are approximate and will vary with usage